Contents:
Introduction
The Cyber-Attack
Kim Philby
'The Scarlet Papers'
What's New at Kew
Intelligence Officers
The Lady Novelists
Beverly Gage and 'G-Man'
Summer Biographies
Ellis, Ker-Seymer, Déricourt, Austin, Orwell, Berlin
The Love-Lives of the Philosophers
Coldspur: Method, Archive & Topography
Introduction
For this August bulletin, I decided I needed to take a break from the intensive research into Kim Philby that has occupied me over the past few months. I suffered a nasty bout of Covid in June, which knocked the stuffing out of me, and also put a dent in my research agenda. So, in this summer round-up, I take instead the opportunity for the more leisurely exercise of catching up with various intelligence-related events and activities. This tour d'horizon has turned out to be a bit more expansive than originally planned: I hope every coldspur reader will find herein something of interest.
The Cyber-Attack
My website suffered a short-lived, but alarming, disruption in early June. I was working from my iPad when I was suddenly unable to access any coldspur page except the home page. I immediately went to my PC, only to find that the same problem occurred, with some message indicating that the page I was seeking was unavailable. This happened in the evening, so I sent off a message to the support desk of my web hoster, and awaited a response. Early the next morning I received a message back suggesting that I clear my browser cache, and, having done so, I saw the apparent return of the complete coldspur site.
So I turned to my PC, and then discovered that there was no cache problem there: the site was available likewise, so I quickly concluded that something else had been at fault. Moreover, I then noticed that a few of the recent comments made by visitors were no longer visible. It looked as if there had been a problem in the regular back-up/recovery procedures. I brought this fact to the attention of the support person, who then dug an even greater hole for herself by stating that such procedures were not the responsibility of her company, and that I needed to get in touch with the outfit that actually hosted the site. Her company was responsible only for managing the WordPress environment.
Now, there are few things that rouse my ire more quickly than technical support organizations who guess, or bluff, or try to deceive me. I have no business relationship with any other entity, and, indeed, I have to declare this outfit as my 'web hoster' each year when I renew my contract for www.coldspur.com with GoDaddy. I thus contacted the President of the company in some frustration, and asked him to sort it out. The outcome was that he did get involved, and had to apologize for his support person, who 'misspoke', yet he himself was guilty of some prevarication. He started off by stating that the management of the site had indeed been entrusted to a 'third party' (which suggests a separate legal entity to me), but he then backtracked somewhat in asserting that the management of all WordPress sites had been consolidated on to a single server. When I pressed him, he admitted that part of his business was in fact outsourced to another company. He could not explain what had happened, but confirmed that the few missing comments were indeed lost for ever.
I am not happy about this at all, and have requested a more thorough approach to data archiving and data quality. In the meantime, I apologize to those couple of coldspur readers whose comments were lost, and especially to David Coppin who took the time to try to re-create his comments.
And then, on the morning of July 30, coldspur became completely unavailable. I informed the web hoster, and soon received an acknowledgment, as well as a message from the President of the company that his team was working on the problem, and that it would contact me as soon it made progress. I wondered whether the outage was due to Chinese malware, since a disturbing story appeared in the New York Times the same day, alerting readers to the exposure of critical national infrastructure by China's malicious actions. I reflected, however, that the availability of coldspur is probably not vital to the safety and integrity of the social fabric of the United States. I thought it far more likely that MI5, anticipating another blistering post on August 1, and suspecting that coldspur's defences would be on low alert on a Sunday, had decided to disrupt its availability.
The site was down for about twelve hours. I learned later that the problem had not just affected coldspur: it had been in fact been caused by a Chinese DDoS (Distributed Denial of Service) attack! No virus or malware had infiltrated the servers, but a blitz of messages brought the installation to its knees, and a range of new IP addresses had to be added to the firewall. Who would have thought a relatively minor installation in North Carolina would come under attack? Was this random? Or did the Chinese have some knowledge of which websites were maintained by this hoster? I was also interested in whether the Department of Homeland Security keeps track of all such attacks. The President of the company told me that he had reported the onslaught to his upstream provider (a wholesale manager of IP addresses and traffic), but it does not seem that there is a requirement to inform the government. Given the source of the invasion, and the current ferment over China's cyberattacks, that strikes me as odd.
Kim Philby
In the Spectator of June 10, Douglas Murray wrote a column 'How to dismantle history', selecting as his subject the TV adaptation of Ben Macintyre's Colditz. He introduced the author in the following terms: "He is a fine popular regurgitator of history who has previously brought to public notice such things as the hitherto untold story of a spy named Kim Philby." Apart from the fact that the adaptation of A Spy Among Friends apparently contains some creative flourishes that would tend to undermine its reliability as a historical record (I have not watched it), I was struck by the paradox: if the story of Philby is 'hitherto untold', how could Macintyre 'regurgitate' it?
I did not expect, a few months ago, that I would be dedicating so much of my research and writing time this year to Philby. I know that several coldspur readers have devoured everything they could find about Philby over the years, and I have been much the same – but without paying really close attention to the details (apart from my inspection of all the accounts of his recruitment by the NKVD in 1933-1934, as laid out in Misdefending the Realm.) Thus I succumbed to the familiar broad-brushed arc of his career: the marriage to Litzi, the recruitment by Arnold Deutsch, the assignments in Spain, the attachment to SOE, and then to MI6, the near disastrous exposure by Volkov, the interlude in Turkey, the posting to Washington, the secrets revealed by VENONA, the postulated 'Third Man' role with Burgess and Maclean, the investigations, the time in the wilderness, and the eventual escape from Beirut.
Dominating this career was Philby's memoir My Silent War, which seems to have been cited quite indiscriminately by any number of writers, including the 'authorized' historian, Christopher Andrew, even though its source and sponsorship should have given grounds for severe scepticism. I have pointed out before that, when in that text Philby identifies his past employer as MI5, it serves as a kind of radio security check, whereby he informs his readers in Britain that they shouldn't really take all that he writes very seriously, as everything is under the control of the KGB (who in general never understood the difference between MI5 and MI6.)
Then, at the beginning of this year, a few queries from coldspur readers (and especially some exchanges with Keith Ellison) prompted me again to dig into aspects of Philby's career, gather a few archives that I had overlooked, re-inspect some folders that I already had on my desk, and start building a chronology for some of the more controversial events in Philby's career. Writing the reports of the past few months has been a fascinating experience, and has made me believe that a brand new biography of Philby is required, one that would not automatically 'regurgitate' all the falsehood of his memoirs, and the exculpatory asides of those officers who were supposed to have been monitoring him, but instead point out some of the anomalies and confront the fact that, on many aspects of his troublesome life, we simply do not know exactly what happened.
And there is more work to be done, for example on the origin of the Litzi Feabre alias, verification of what must have been a very shaky divorce settlement, what was known about Burgess's connections before 1951, the Foreign Office post-mortems, and the mysteries of Philby's last few years with MI6, including the falsehoods passed on by Nicholas Elliott. In that context, while reading recently Burton Hersh's history of the CIA, The Old Boys, I came across the following passage: "He [Wisner] downplayed American annoyances at the pigheadedness of the English at suggestions that they get busy or flutter their people, stop mincing around and bring the Philby situation to a head. At Dulles's urging, Wisner got close enough to Roger Hollis [1959] to break loose 'a really valuable body of evidence about Philby,' Cleve Cram says, 'which filled in a lot of the chinks and helped overcome the horrified reaction around the Agency when we were given to understand that MI6 was running him still'." What might Hollis have known, and what could he possibly have told Wisner that would have calmed the concerns of the restless Americans?
Moreover, in recent weeks, fresh leads have sprung up to be investigated: Vivian's dissimulations of August 1946; Philby's postwar presence in Vienna and the missing Bruce Lockhart tape; the surprising addition of Philby to the circle of acquaintances of the psychiatrist Eric Strauss; the debate about 'STEVENSON'; and a suggestion in a recent book by Charlotte Dennett (Follow the Pipelines) that Philby was involved in the 1947 death of her father, the CIA agent Daniel Dennett, in an aircrash. I have ordered the book, and shall report more later. Perhaps most significant is the acquisition of the MI5 December 1939 Staff Lists from the National Archives, that include a 'Miss Furse' working in C2b. Keith Ellison has pointed out to me that Yuri Modin wrote, in My 5 Cambridge Friends, that Philby, at the time he was recruited by MI6 in 1941, 'was having a passionate love affair with Aileen Furse, who worked in the MI5 archive department'. So was Aileen already working for MI5 when she met Kim at the Solomon/Birch luncheon? And was she thus able to wield some power over him?
Lastly, towards the end of the month, while reading Michael Frayn's new collection Among Others: Friendships and Encounters, I learned that Frayn had innocently introduced his college (Emmanuel, Cambridge) friend John Sackur to Harold Evans of the Sunday Times in 1967. The encounter did not go well, since the paper was deep into its investigation of Philby, and Evans discovered (from his deputy editor, Frank Giles) that Sackur worked for MI6. Frayn postulates that Sackur may have been sent to Evans on a mission to try to control the narrative, and that he, Frayn, was used as a channel. Frayn led me back to Evans's account in his memoir My Paper Chase (which I had read when it came out, but had forgotten the episode), but that did not seem to me to represent the whole story. Where else had I read about it?
Evans refers to Phillip Knightley's belief that Sackur was a member of a dissident group inside MI6. Knightley had argued in 1998, in an article in British Journalism Review, that Sackur was in fact a member of a 'ginger group' who wanted the Philby inquiry to go ahead, so that further Soviet agents could be unmasked. My first thought was that was equally unlikely, and a check on Chistopher Moran's Classified seemed to confirm that what the Sunday Times was about to reveal was way beyond the control of MI6, or even the UK government. It would have been pointless and clumsy to try to encourage the investigation in person. Moran had suggested that Sackur had probably been sent as a spy to discover exactly what the Sunday Times had put together, and that he reported to his bosses the extent of the possible damage.
I needed to find the article. David Spark, in his book Investigative Reporting, sources Knightley's comments as Volume 9, Number 2 of the British Journalism Review, in June 1998, where an abstract of Knightley's riposte to a critical piece by his ex-colleague Bruce Page piece can be seen (https://journals.sagepub.com/doi/abs/10.1177/095647489800900206). It reads: "In the last issue of the British Journalism Review Bruce Page criticired [sic] a former Sunday Times colleague, PHILLIP KNIGHTLEY, for his role in the paper's investigative campaigns 30 yearr [sic] ago. Knightley now exercises his right of reply."Yet nothing by Bruce Page in 1998 can be found via a search on the Review's website. In fact, Page did write a piece criticizing Knightley in Volume 9, Number 1, with his authorship not indexed, but his focus was apparently on thalidomide. I needed to find out how the riposte switched to Philby.
After a while, I managed to get a copy of the Knightley piece, titled 'The inside story of Philby's exposure'. The facts are predictably elusive but the interpretation of what happened comes down partly to timing. Knightley starts off by setting the introduction by Frayn to Evans as occurring 'when The Sunday Times was sniffing around the story' of Philby, i.e. when any conclusions would have been very tentative, and he reports that Sackur appeared to be taken aback when Evans told him that the paper was looking into the life of 'your old Foreign Office colleague', Kim Philby. Sackur's response was extreme: he immediately elevated the potential political embarrassment such an investigation would provoke, and described Philby as 'a copper-bottomed bastard'. This exchange would suggest that Evans and his team did not yet know that Philby worked for MI6, and that Evans learned of Sackur's employer only soon afterwards, when Sackur met Giles. Naturally, Sackur's outburst encouraged Evans to pursue the case even more determinedly. (Evans recounts all this in his memoir.)
The disagreement between Page and Knightley comes down to the reason why Sackur appeared in Evans's office. Page believed that it was coincidence, and that Sackur genuinely wanted to leave the 'Foreign Office' (i.e. MI6) for a journalistic career, while Knightley was convinced that Sackur was one of the 'young Turks' who were disgusted that their senior officers in MI6 would not let him (and Stephen de Mowbray and Arthur Martin) continue their molehunt, and Sackur thus wanted to encourage the exposure of Philby. In this scenario, Sackur must have gained a smell of what the Sunday Times was up to: his surprise was feigned, and his melodramatic response deliberate. Yet Evans's conclusion was that Sackur 'was not a plant, but a young man whose conscience would give him no rest'.
Moran, writing in 2013, had had access, however, to the private papers of George Wigg, the Paymaster-General in Harold Wilson's government, which confirmed that Sackur had indeed gone on a fishing-trip, and, having learned the extent of the investigation, alerted his bosses and sent Whitehall in a tizzy. Maybe his behaviour in front of Evans was to gain the trust and confidence of Bruce Page, which certainly occurred when the leader of the 'Insight' team took Sackur for a liquid lunch at Manzi's seafood restaurant in Soho. In this scenario, the disclosure of facts that Sackur revealed to Page at their meeting may have been a deliberate attempt to distract the paper from the more serious crimes of Philby. Evans even records that Sackur gave broad hints about Philby's transgressions in World War II rather than in the Cold War, which his team 'eventually' was able to determine as relating to Germany's plans for a separate peace, and the purging of Catholic opposition to the communists in Germany – actually after the war. All very odd. As Frayn describes, Sackur was a deceiver par excellence.
And what happened to John Sackur? Frayn and Evans write that he died young. Outside Frayn's vignette (Sackur's non-appearance at a college reunion inspired Frayn's play Donkeys' Years), I have been able to find a few references to him. Daphne Park's best friend was a Jean Sackur. Was she related, I wonder? The answer came from Paddy Hayes, the author of Queen of Spies, his biography of Park. He had interviewed Jean Sackur, who had been married to John, and divorced from him some time in the 1960s. Ancestry.com confirms that Christopher John Sackur was born in Wharfedale, Yorkshire, on February 8, 1933 (his mother née Humphries), and died on January 24, 1986, in Bury St Edmunds. (see https://www.findagrave.com/memorial/241252354/christopher-john-sackur). He married Jean La Fontaine in the summer of 1958, in Cambridge, married a woman named Morgan in 1974, and further married Joanna Butt in May 1985. Hayes writes that Sackur was offered a job by the Sunday Times 'Insight' team, but that MI6 would not let him go there, after which he became a successful management consultant. Another report states that Sackur was one of those officers 'burned' by the revelations of George Blake to his Moscow bosses, and that John Quine, head of MI6 counter-intelligence, decided that Sackur had to resign. As with all such stories, the truth is hard to pin down.
The Scarlet Papers
As I was drafting the section above, I came across, in the May issue of Literary Review, a short review of a novel by one Matthew Richardson, titled The Scarlet Papers. It started off as follows:
This magnificent spy novel sees disappointed academic Max summoned to a secret interview with Scarlet King, an elderly woman he has never met. His expertise being the history of the intelligence services, he knows that she was once the most senior woman in MI6 and one of the greatest specialists on the Soviet Union.
After giving a glimpse of the plot (without really spoiling the reader's future enjoyment) the author of the review (Natasha Cooper) continues:
Richardson uses plenty of real names to provide authenticity, from John le Carré and Vasily Mitrokhin to Sergei Skripal, Maurice Oldfield and even Churchill's confidant Professor Lindemann. He draws upon his own experiences as a researcher and speechwriter in Westminster, with the result that his political and civil service characters behave in ways that are entirely convincing.
Well, up to a point, Ms. Cooper. I of course had to acquire the book after this endorsement, and was entertained by the smoothly-written novel. Perhaps it does not need to be mentioned that Kim Philby plays a semi-prominent role, something that piqued my attention even more. But authenticity requires more than dropping in famous names from the world of intelligence, using all the established jargon of spycraft, and scattering dozens of well-known (even overused) anecdotes that have populated the literature over the past fifty years. It requires chronological exactitude, and attention to detail in background, careers, expertise, achievements, psychology and motivations.
The problem starts with Scarlet King herself, who is described as being in her nineties at the time of the action – in fact given more precisely as ninety-five in one passage. Her first assignment with MI6 was in Vienna in 1946. Thus, if she were, say, twenty-five years old at the time, the action would probably be no later than 2016. (At one point, Richardson writes that she was only twenty-one when she took on her first assignment for MI6 in Vienna in 1946 – highly improbable!) Yet, in one scene, Scarlet is accused of possibly meeting Philby at the SOE training school at Beaulieu in Hampshire, since she had worked previously for SOE. Philby was dismissed from SOE in the summer of 1941, however, and soon after joined MI6, which, to require King to be of a reasonable age to be employed by SOE, would probably bring the current events forward a few years. And then we learn that she attended Lady Margaret Hall at Oxford University, gaining her degree in Modern Languages, which means that she must have completed it in the summer of 1939 or 1940 (at the latest) to be recruited by SOE, which would give her a probable birth-year of about 1917.
Now matters start to get stretched the other end. From 'authentic' remarks made by MI5 officers, we learn that 'current' events must be occurring after 2018, since the attempted assassination on Skripal in Salisbury is referred to as an event worth recalling. Next, we learn that the year must be in the 2020s, as Brexit (January 2020) is referred to as a past happening. Thus Scarlet King suddenly would have to be a centenarian – and a very sprightly one, at that. But then Richardson informs his readers that King was born in 1923, and was 'recruited' (by what organization I shall not divulge) at the tender age of thirteen. She then is described as appearing in sub fusc at Oxford, which meant she must have been admitted to the university at a very young age to be ready to work at SOE in 1940. Yet later in the book, we are told that she went up to Oxford after the announcement of the Nazi-Soviet pact in the autumn of 1939, which would make her recruitment in by SOE in 1940 utterly impossible. Nevertheless, King continually draws on her experiences during training at the SOE school in Arisaig. She is again described as being aged ninety-five in what must be 2021 or 2022. It is all a mess.
The curriculum vitae of the historian embroiled in the plot (Max Archer) is just as dubious. He is aged forty-two at the time of the events, which has him born in (say) 1980. He earned a double-first at Cambridge (under Christopher Andrew), took a Master's degree, and then, having been rejected for a job in MI6 at the end of 2001, was accepted to take a Ph.D. at Harvard. He then returned to the UK, working as an assistant professor at the London School of Economics, which must have taken him up to about 2005. He went on to write two books that gave him his reputation: a volume titled Double Agents: A History, and The Honourable Traitor: An Unauthorized Life of Kim Philby. No dates are given for these publications, but they did apparently necessitate some heavy years of toil. Yet Max is described as having been a consultant to the BBC series The Cambridge Spies (not something one should be very proud of, by the way, because of the way it played around with the facts). That production came out in 2003, however, when Max was presumably completing his doctorate in Boston.
Moreover, the two publications in his name cast serious doubts on Archer's professional excellence. Richardson himself throws around the term 'double agents' carelessly (using them to categorize Philby and Blunt, for example), when what he really means is 'agents in place', 'penetration agents', or simply 'traitors'. Just because a person betraying his country happens to work for an intelligence service does not make him a 'double agent'. (Michael Holzman, Ben Macintyre, Tim Tate, et al., please note.) That Richardson is aware of this semantic error is made evident in a speech that he allocates to Max Archer (p 264): "'My academic research is on double agents', he said, steadying his voice. 'Intelligence officers who officially work for one side but secretly work for the other. The thing is, technically, some intelligence historians dispute the use of the term "double agents" for professional spies like Philby and the Cambridge Five.'" Why, if he were a serious historian who wanted to make his reputation, Archer would go against the grain of what 'some' intelligence historians affirm (how many are there, anyway?), and promote an incorrect and unrecognized classification, Richardson does not explain.
Likewise, the account of his biography of Philby is unconvincing and ambiguous. Archer is supposed to have spent years in the archives digging out the facts about Philby, but the whole point of Kim is that there was practically no archival evidence available about him – certainly not in the early 2000s, and the books about him relied largely on the secretive investigations and interviews conducted by the Sunday Times 'Insight' team, unreliable memoirs from his colleagues, as well as Philby's own highly dubious account, My Silent War. Yet Archer is described as taking four years to write his biography, and the Endnotes took twelve months. What they could have contained, for a professedly serious academic publication, would have been very thin gruel. (Even if he had had access to the same MI5 files that Christopher Andrew was able to inspect – impossible, by the way, since there were no historians 'authorized' before Andrew – most of his Endnotes would simply have stated 'Security Service Archives'.) Yet Archer later explains that both his books were tuned for a less demanding market (p 228): "He'd glamorized them, emphasized the sex and the danger, even hoped they might be optioned in a splashy bidding war by Hollywood and hungrily consumed by the masses." That is absurd: you cannot be the pot-boiling Ben Macintyre and the dryasdust Michael S. Goodman at the same time.
I could cite more – but enough. The book is pure hokum – quite enjoyable hokum – but still hokum. If the fictional characters are too closely tethered to real figures, credibility is quickly undermined, while if they also lack their own coherence in the imagined world, the whole edifice crumbles. What publishers in this sphere need are not Sensitivity readers but Authenticity Readers.
What's New at Kew
In March of this year, I submitted a Freedom of Information Request to the National Archives at Kew. I had noticed that HO 382/255, a file on Georg Honigmann and his daughter Barbara (by Kim Philby's former wife, Litzi) relating to their passport status, had been withheld, not to be released until 2061! This was shocking. I could not understand why information on the Honigmanns could still be regarded as sensitive. After all, Georg had absconded to East Berlin in 1946, seventy-seven years ago, and Litzi had joined him soon afterwards, whereupon they were married. Barbara was born in 1949. The file was closed, it seems, in December 1960, and an arbitrary retention period of one hundred years allocated. Why would the Home Office need to maintain information on these people for so long, and who might be affected by its disclosure? Was something embarrassing about Litzi included, perhaps?
The initial response was not encouraging, but due process was followed. At last, on June 28, I received the following message from the Quality Manager at the National Archives:
Thank you for your enquiry regarding a review of:

HO 382/255 – HONIGMANN, George [sic] Friedrich Wolfgang: German. HONIGMANN, Barbara: German

Please accept our apologies for the delays in responding to your Freedom of Information request.

I can now confirm that a redacted version of this record will be made available for public viewing at The National Archives, Kew by 5 July 2023. We have outlined your options for accessing the record at the end of this response.

We have had to carry out a public interest test. This was because some of the information you requested is covered by the Section 23(1) exemption, which by virtue of Section 64(2), becomes a qualified exemption where information falling within it is contained in a historical record in a public record office, such as The National Archives. Section 23 exempts from public disclosure, information that is directly or indirectly supplied by, or relates to, certain organisations dealing with security matters listed at Section 23(3).

After careful consideration, the public interest in releasing some of the information you have requested is outweighed by the public interest in maintaining the exemption.

We have applied the Section 23(1) exemption to information in the file relating to the Security Service. We shall continue to protect such information for the personal security of the individuals involved and the national security of the United Kingdom. It is in the public interest that our security agencies can operate effectively in the interests of the United Kingdom, without disclosing information that may assist those determined to undermine the security of the United Kingdom and its citizens.

The judiciary differentiates between information that would benefit the public good and information that would meet public curiosity. It does not consider the latter to be a "public interest" in favour of disclosure. In this case disclosure would neither meaningfully improve transparency nor assist public debate, and disclosure would not, therefore, benefit the public good.

I scanned a copy of a police report from this record in order to obtain the Metropolitan Police's approval to release their Special Branch generated material, (something I am obliged to do under the Freedom of Information Act).
As they have stated that they have no objection to release, I have attached a copy of the scan so that you at least have some details to look at while waiting for the file to be made available in full.

The file has now been returned to the repository.
My London-based researcher has recently viewed and photographed the file, and I received it on August 9. There does not, at first glance, appear to be anything controversial in it, apart from the fact that Barbara Honigmann (who is still alive), the daughter of Georg and Litzi (sometime Philby) Honigmann applied to spend a month in the United Kingdom when she was eleven years old, in 1960! No doubt there are other secrets within. I shall provide a full report on it in my September bulletin. One thing that had struck me is that Honigmann is described in the header as being 'German', yet a sample of the file sent to me by the Quality Manager reports on Honigmann's application for British naturalization in 1936, on the basis that he promised that he 'he had no intention for making application to the German authorities for permission to retain his German citizenship if granted British naturalization'. Puzzled, I returned to the Honigmann files previously released, and then discovered that Honigman's application for naturalization was rejected because of his communist sympathies.
Intelligence Officers
I frequently ask myself: what makes a good intelligence officer, and were those recruited by MI5 in wartime well-suited to their career? Selecting a profession has a high degree of chance about it, in my opinion. I almost went into teaching (and took a post-graduate degree in education), but I think I would have been a very poor schoolmaster. (Several persons I have encountered said that I should have been a lawyer.) Fortunately I joined IBM instead, and finished my career in a job of technology analysis that I believe was ideal for me, demanding business acumen, technical knowledge and experience, good analytical and communications skills, and a healthy lack of idealism. And one thinks of doctors: presumably all doctors who pass their final examinations must be qualified, but one would expect a vastly different set of skills between those who passed with flying colours and those who always confused the ileum with the ilium.
Were the Oxbridge dons, lawyers, and acquaintances from the Club uniquely suited to the positions found for them in MI5 when it was recruiting furiously in 1940? Perhaps on the principle that smart persons can adapt to the demands of any particular job, it made sense, but training and preparation were practically non-existent, and the management infrastructure was woefully inefficient. Moreover, there were different kinds of skill required: more cerebral, contemplative assessment of evidence, with a background of history and politics required; interrogatory skills in challenging and verifying the stories of suspected spies; the more people-oriented capabilities of emotional intelligence and patience in running agents.
I recently came across what Allen Dulles, the head of the CIA, wrote about ideal intelligence officers. In The Craft of Intelligence appears the following:
"When I recently addressed a class of junior trainees at CIA I tried to list what I thought were the qualities of a good intelligence officer. They were:
Be perceptive about people
Be able to work well with others under difficult conditions
Learn to discern between fact and fiction
Be able to distinguish between essentials and non-essentials
Possess inquisitiveness
Have a large amount of ingenuity
Pay appropriate attention to detail
Be able to express ideas clearly, briefly and very important, interestingly
Learn when to keep your mouth shut."
As afterthoughts to what he presented in his lecture, he added other desirable characteristics: an understanding of other points of view; no rigidity or closed-mindedness; lack of ambitiousness or rewards in fame or fortune.
It's not a bad list: I wonder whether his trainees were screened before they were hired, or whether he thought that some of the qualities could be inculcated into them? I might add a hard-headed, even cynical, perspective on how the world works, a degree of humility, and a sense of humour, even to the extent of not taking oneself too seriously. (Are you listening back there, Angleton?) And I was reminded of the sentences that Stella Rimington included in her memoir concerning Peter Wright (that I used in my July coldspur):
But it [counter-espionage work] is not the quick jumping to conclusions and the twisting of facts to meet the theory which Peter Wright went in for in those days. He was in fact by then [1972] everything which a counter-espionage officer should not be. He was self-important, he had an over-developed imagination and an obsessive personality which had turned into paranoia. And above all he was lazy.
Wright would have failed the Dulles test quite dramatically.
But what about his colleagues, in MI5 and MI6? Were they much better? Consider the very smart and cerebral but rather romantic and impressionable Guy Liddell, lacking confidence in expressing his opinions forthrightly; the ambitious and political Dick White, who manipulated others to protect his position; the bumbling and easily influenced Arthur Martin, who certainly could not keep quiet when he needed to; the insightful but neurotic and demanding John Curry; the vain and detached Valentine Vivian, suffering from depression, who did not have the brain-power to recognize what he was up against; the unpopular and heartless loner Claud Dansey, whose deviousness led him into some dismal traps; the well-intentioned but cautious and unbrilliant Roger Hollis, who really just wanted to stay out of trouble and play golf; the misplaced Percy Sillitoe, treating counter-espionage as a police exercise, who had to call in from the USA for instructions. In comparison with this lot, I suspect that Jasper Harker and Felix Cowgill may have received an undeservedly bad press.
On the other hand, I believe the true stars were more junior officers like Jane Archer (née Sissmore), Michael Serpell and Hugh Shillito, who had their fingers on the pulse, but for various reasons were pushed aside or became disheartened. And one has to recognize that it would take a very persistent and confident MI5 leadership, with carefully prepared arguments and principles, to withstand some of the political pressures. If Petrie, Liddell and White had insisted to the Ministry of Aircraft Production, just after the Soviet Union had entered the war as an ally in the summer of 1941, that Klaus Fuchs should in no circumstances be employed on the Tube Alloys project because he was a known Communist, their careers might have been put in jeopardy.
And what about all those MI6 officers with Russian connections – Alexander McKibbin, Henry Carr, Paul Dukes, Stephen Alley, George Hill, Wilfred Dunderdale, Harold Gibson, George Graham, and maybe others? They were selected because they spoke Russian, and knew the country: some of them had wives from tsarist times. Obvious candidates to handle agents behind the lines. But of course those qualifications represented a massive exposure. Their skills and background stood out a mile to the various Russian Intelligence Services over the years, and they were ideal candidates for manipulation by the NKVD through the issuance of threats to family members still residing in the Soviet Union. Unimaginative heads of MI6 could not spot the danger, and the cause of counter-intelligence – injured of course by Philby – was mortally damaged.
It was not easy. And re-discovering a passage in the 1944 Bland Report (which made recommendations about the future organization of MI6) caused me to reflect that the leadership of the Services sometimes failed to come to grips properly with their missions. Keith Jeffery cites a statement inserted by Stewart Menzies (after influence from the rather flimsy Peter Loxley, Alexander Cadogan's Private Secretary, who was tragically killed in an aircraft accident on his way to Yalta), which tried to steer an apolitical track:
We think it is important that those concerned [eh?] in the S.I.S. should always bear in mind that they ae not called upon to investigate such organisations [Nazis, Communists, Anarchists, etc.] because of their political ideology; and that they should therefore only engage in such investigations when there is prima facie evidence that the organization in question may be used as instruments of espionage, or otherwise when specifically requested to do . . . We consider it to be of great importance that the S.I.S. should avoid incurring any suspicion that it is the instrument of any political creed in this country, and we believe therefore that C would always be well advised to seek guidance from the Foreign Office as to what political parties in foreign countries need special watching, and for how long.
This seems to me to be taking neutrality too far. (It was at a time when factions in the Foreign Office were strenuously promoting 'co-operation' with the Soviet Union.) Defending the Realm, the Constitution (no matter how dispersed or vague it was) – even the Empire – was presumably what MI6 and MI5 were supposed to be doing: confounding the knavish tricks of those who wanted to overthrow them could hardly be construed as adopting a political ideology. This must have raised a few guffaws in the Kremlin.
In conclusion, after reading the biography of J. L. Austin (q.v. infra), I realized that it was a figure like him that MI5 (and MI6) desperately needed to coordinate intelligence about Soviet intentions and practice in all their aspects – Leninist and Stalinist doctrine, the Comintern and its successors, Moscow's relationship with the CPGB, the role of spies, illegals and agents of influence, the use of propaganda and subversion. Austin's capacity for hard work, his ability to learn, his excellent memory, his historical sense, his patience, his lack of sentimentality, and his synthetic abilities in interpretation all gave him an unmatched capability. Two heads of the CIA, Walter Bedell Smith (q.v. infra) and William Casey, were both highly impressed with Austin's work, and tried to bring his disciplines to work in reforming the organization.
But instead, MI5 and MI6 got Hollis and Vivian.
The Lady Novelists
If W. S. Gilbert's text for The Mikado had had to undergo the surveillance of a 'sensitivity reader', we would have been spared the appearance of 'the lady novelist' in Ko-Ko's list of persons who 'never would be missed'. Lest anyone be under the misapprehension that I carry any bias against members of this category, I hasten to point out that I am an enthusiastic fan of Angel Thirkell, Helen MacInnes, Olivia Manning, Barbara Pym, and Elizabeth Taylor. Thus I trust that my recent criticisms of Kate Atkinson, Rebecca Stanford and Charlotte Philby will not be interpreted as a sad case of male chauvinism. As is evident, I mete out the same harsh treatment to characters like Matthew Richardson.
Unfortunately, when I wrote to Charlotte Philby, suggesting that her obvious talents might be better applied to writing a non-fictional account of her grandfather's marriage with Litzi instead of an imagined tale of his relationship with Edith Tudor-Hart, she reacted badly, believing that I was being facetious. (An unremarkable conclusion, should she have happened to know me, but in this case I was behaving utterly sincerely.) I immediately tried to repair the damage, but heard no more from her. I wonder whether she has been tracking the saga on coldspur. . . . Nevertheless, I remain a sucker for picking up these creative attempts to write convincing fiction based on a distortion of historical events.
The latest in this genre that I read was a title that caught my eye on the Barnes & Noble best-selling table – The Paris Spy by Susan Elia Macneal. Since it involved an SOE agent in 1942, as the plans for the 'invasion' of France are being made, I thought I should give it a go. Heaven knows, the author might have dug out some new source I had overlooked. When I inspected the bibliography at the back, I could tell that she had immersed herself deeply into the goings-on with F Section, Buckmaster, Déricourt, Atkins, Dansey, Khan and company.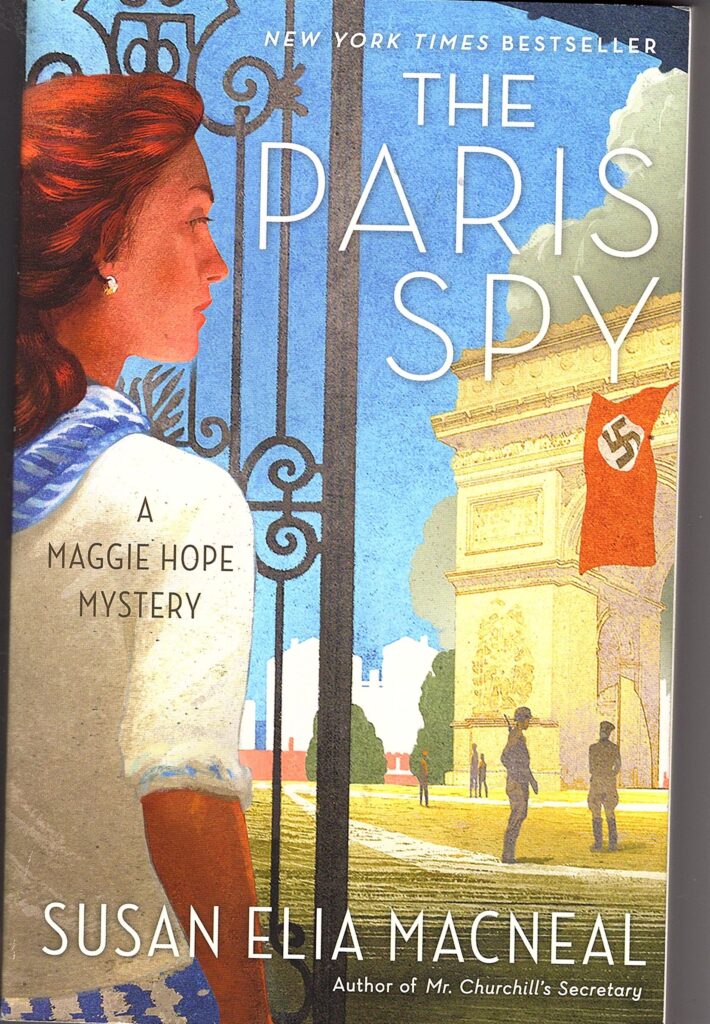 The novel turned out to be another mess of fiction and 'authenticity'. At times, Macneal introduces real characters in her plot, but introduces the main actors by hiding their real-life models behind imagined names. Thus James Lebeau is based on Henri Déricourt, Henry Gaskell on Maurice Buckmaster, Diana Lynd on Vera Atkins, and George Bishop on Claude Dansey. (Occasionally she forgets where she is, and refers to such characters by the names of their prototypes.) The author admits, proudly, that her story is 'fiction, pure fiction' but then acknowledges her debt to Phyllis Brooks Shafer, retired Berkeley Professor, as well as Ronald J. Granieri, director of research and lecturer in history at the Lauder Institute at Wharton at the University of Pennsylvania, for their contribution by checking her manuscripts for historical accuracy.
But what can 'historical accuracy' mean in such a scenario? The plot is quite absurd, with a larger-than-life appearance by Coco Chanel, implausibly simplified radio transmissions, miraculous escapes – one aided by an accommodating Nazi officer – the seizure of prisoners of the Germans, and an unlikely flight back to the United Kingdom in which the Déricourt character pilots the Lysander, but has to be subdued and rendered unconscious, whereafter the heroine (who has never flown a plane beforehand) manages to bring it home with the help of a groggy RAF officer. It is not to say that the book lacks style: wartime Paris is described with obvious care, and Macneal has a good knack for dialogue. All harmless nonsense, I suppose, and it seems that there is an audience for such hokum which does not care about the extravagances and distortions.
Beverly Gage and 'G-Man'
One of my summer reading assignments was to read Beverly Gage's critically acclaimed and Pulitzer Prize-winning biography of J. Edgar Hoover, the long-lasting director of the F.B.I. Now, I have never regarded Hoover as a very estimable or sympathetic figure: I detected a high degree of hypocrisy in his private life, and judged his commitment to dirty tricks disgraceful. I considered that his approach to segregation and civil rights, and his obstinacy in deeming the movements behind them as being inevitably controlled by Soviet intelligence, were simply foolish. I had also been disturbed by Hoover's inappropriate championing of the Catholic Church – something that Gage dispenses with fairly sympathetically in just three pages – and was thus intrigued to read, in the July issue of History Today, a review of a new book on his influence in this sphere, titled The Gospel of J. Edgar Hoover: How the FBI Aided and Abetted the Rise of White Christian Nationalism, by Lerone A. Martin. The reviewer, Daniel Rey, writes: "From Hoover's petty squabbling over biblical disputes to his flagrant abuse of the separation of church and state, the details in Martin's book are astonishing." I doubt whether I shall get round to reading this – one can take only so much Hoover in one decade – but it just shows that the 'definitive' biography will never be written.
Yet Gage manages to describe Hoover as a vaguely respectable character, politically savvy and ready to adjust – obviously something he would have had to perform if he managed to fulfill his duties under eight different US presidents, from Coolidge to Nixon. If a biographer is going to spend that amount of time on any character, he or she will probably present a mostly positive angle on the subject. I was surprised, however, given what I recalled of Anthony Summers's 1993 biography of Hoover, how little time she spent on Hoover's secret files on politicians, items that he used to threaten anyone who challenged him. Why, for instance, could Richard Nixon not bring himself to fire Hoover when all his aides were pressing him to do so? Gage also has no room to explore the way her subject was sometimes lampooned. In 1964, the satirist Art Buchwald wrote a column claiming that Hoover was a 'mythical person first thought up by Reader's Digest', which magazine took the name from the manufacturer of kitchen equipment. Hoover was not amused.
Hoover had appeared on my screen because of his demand to have Fuchs interrogated in prison by an FBI officer, because of the episodes involving Philby, Burgess and Maclean, because of his energetic anti-communist stance, and because he had tried to prevent the CIA learning about VENONA. I had always been a bit puzzled about his relative patience with the visits of MI5 chiefs and vice-chiefs (e.g. Sillitoe, Liddell, Hollis) who had gone to Washington in an attempt to appease him, since he must have considered the set-up at the Security Service impossibly leaky and not managed on the strict procedural and hierarchical lines that he prided himself on developing for the FBI. In fact, Hollis and Liddell do not appear in Gage's index (there is no mention of Hoover's gift of golf-clubs to Hollis), and Sillitoe is mentioned only in the context of his giving an honorary knighthood to Hoover at the British Embassy in 1951. Gage is very weak on matters of international intelligence, such as the complicated relations between the CIA and the FBI when it came to the handling of Soviet defectors and agents-in-place, most notably Michał Golenewski. That all goes to show, I suppose, that you can write a rich 837-page biography without touching some of the critical aspects of a life, and that Gage has a naturally domestic focus.
Gage overall writes quite elegantly (I do not understand why she capitalizes 'Black', but not 'white', but observe that this anomalous usage extends to the pages of the Times Literary Supplement), and her narrative moves forward strongly. Yet I wondered whether her perspective lost some of its individuality in the process of writing. In her Acknowledgments she gives credit to no less than one-hundred-and-twenty-eight individuals, and it is difficult for me to see how she could listen to the opinions of that many persons without compromising her independence of voice. For example, she shows a less than authoritative stance on the issues of 'racial and social justice', and the competition between 'capitalism and communism', and sometimes evades judgments where a more confident scholar would have put her oar in. The sources she gives are overall thorough, although it worries me when a respectable academic relies on Ben Macintyre's A Spy Among Friends and Phillip Knightley's The Master Spy for her intelligence on Kim Philby, and she also cites Amy Knight's highly flawed When the Cold War Began for her information on the Gouzenko case. How can I trust her authority on the topics and authors with which I am not familiar?
One of her woollier assertions really stopped me in my tracks. On page 418, she writes: "One Venona cable even hinted that Walter Bedell Smith, director of the CIA beginning in 1950, might have been turned by the Soviets during his time in Moscow as American ambassador." No commentary is supplied: no source for this claim is given. I judge that observation so shocking, with highly grave implications if true, that it should never have been allowed to appear in the text so baldly. If the evidence is flimsy, the observation should have been omitted. If it is not, a proper analysis should have been offered. I can find no reference to Bedell Smith in either of the two primary American works on the VENONA project, namely the book by Haynes & Klehr, and that by Romerstein & Breindel. Moreover, I cannot imagine anyone less likely to have been 'turned' (whatever that means in this context) than Bedell Smith. I accordingly sent a polite email to Professor Gage, asking her to provide me with the source statement, and to explain exactly what she meant. (Writing emails to authors is frequently a thankless task: non-academics tend to hide behind their agents or their publishers, but academics normally display an email address somewhere on the institution's website, and that is how I was able to target Professor Gage's inbox – or spam folder.)
I received no acknowledgment or reply. I put her on the List.
Summer Biographies
It is a rich summer for the publication of biographies. Jesse Fink, who declared himself a coldspur enthusiast a few months ago, is a British-Australian author. His latest offering, as he posted, is a life of the intelligence officer Charles 'Dick' Ellis, titled The Eagle in the Mirror, and his objective is to refute the common claim that his subject was a 'scoundrel' – contrary to what I, like many others, believed. In order to get my hands on this book as soon as possible, I ordered it from amazon.uk, and eagerly look forward to its arrival, and learning what the facts about this mysterious character are.
I also read in a recent Spectator a review of a recently-published biography of the photographer Barbara Ker-Seymer, written by Sarah Knights. Attentive coldspur readers will recall that I covered this little-known character in a piece from February 2019, Two Cambridge Spies – Dutch Connections (1) ( https://coldspur.com/two-cambridge-spies-dutch-connections-1/) , where I explored Ker-Seymer's links with Donald Maclean, and whether she was the elusive 'Barbara' to whom Goronwy Rees referred. Duncan Fallowell's review in the magazine was hardly compulsive: "She took some attractive photo-portraits before the war in her studio above Asprey's and that was it." I wondered, if Ker-Seymer was so insignificant, why Knights deemed her worthy of a biography. Was anything about Maclean to be revealed in the book? I doubt whether I shall bother to acquire it, since Knights may not have advanced so far as I did in my researches. Maybe somebody out there reading this report will know more, and inform me.
At some stage I am also expecting the arrival of Robert Lyman's book on the double-agent Henri Dericourt. Lyman, a somewhat arrogant New Zealander (in his self-promotion, he always prefixes his name with 'Dr.', in my mind a rather pretentious habit when exercised by those who are not medical practitioners), appears not to have been chastened by the drubbing that Patrick Marnham gave him recently on coldspur (see https://coldspur.com/special-bulletin-patrick-marnham-responds-to-robert-lyman/ ). For example, it has been reported to me that Lyman was enthusiastically touting his 'new' researches at the Chalke Valley History Festival in June. Patrick and I are very sceptical that Lyman will have come up with any fresh insights after his time at Kew, and it seems to us that he is being set up by Mark Seaman and the other Foreign Office propagandists as the successor to the now much subdued Francis Suttill. I suppose I shall have to acquire his book when it comes out, in the cause of research completeness, but, again, if any coldspur reader can perform the job for me first, and advise me accordingly, I should be very grateful.
On August 4, I received my copy of M. W. Rowe's J. L. Austin: Philosopher and D-Day Intelligence Officer, which was reported (in a Spectator review) to have a fascinating account of the Oxford philosopher's contribution to intelligence in World War II. It weighed in heftily at just over two pounds, with 660 pages. I completed it on August 19: it is a monumental work, a tour de force in many aspects, but ultimately unsatisfactory. The problem is that it actually consists of three separate books: a conventional biography of Austin, a study of military intelligence in World War II, to which Austin contributed mightily, and an account of Ordinary Language Philosophy in post-war Oxford. None of these three subjects is probably worthy of a separate volume, yet, when merged together, they produce something rather indigestible.
Austin tragically died very young, of lung cancer at the age of forty-eight, and the events of his life, outside the war service and the linguistic battles at Oxford, do not contain enough of interest to fill a biography. The cause is not helped by a very stodgy and irrelevant genealogical introduction, which, by focussing on only one patrilineal thread, does not do justice to the scope of Austin's heritage, and sentimentally makes some rather unrigorous conclusions. I cite here an example of Rowe's whimsical day-dreaming: "It is pleasing to think that two mordant intellects and fine prose stylists – the J. Austen who wrote Sense and Sensibility and the J. Austin who wrote Sense and Sensibilia – are related, even if their closest common ancestor is to be found in the late fifteenth century." That is a rather desperate effort.
On the other hand, the middle section, on intelligence on wartime, is fascinating, and sheds vital fresh light on Austin's contribution, especially concerning the D-Day landings, that has not been published beforehand. Yet the author chooses to include a host of ancillary information about the conflict that has little to do with Austin's life. The last section is simply tedious: Austin's apparent obsession with the detailed inspection and promotion of 'Ordinary Language' to solve 'philosophical problems' (that are undefined) seems to this reader quite futile, since that school of philosophy combines a mixture of the palpably obvious with a failure to understand that language is an infinitely deceptive tool, and that the spoken form, through emphasis and intonation, introduces a whole fresh dimension of significance and meaning. Rowe quotes something that Isaiah Berlin, in a typically arch and equivocal manner, wrote about Austin, as the philosopher was dying, that, to my mind, ironically undermines the whole principle of 'Ordinary Language': " . . . I think on the whole that he is the cleverest man I have ever known – in curious ways also the nicest, perhaps not the nicest, but wonderfully benevolent, kind, good and just, despite all his little vanities, etc." Analyzing the difference between 'the nicest' and 'the nicest' could have occupied a whole seminar. I recall reading, in my late teens, Language, Truth and Logic, by Austin's adversary, A. J. Ayer, followed by Austin's Sense and Sensibilia, and then Ernest Gellner's Words and Things, which tried to demolish the kernel of Austin's 'Ordinary Language' ideas. My vague recollection is that I found Gellner, despite his rather lush and imprecise prose, the most convincing.
The book is not helped by a too rich set of distracting Footnotes, mostly clarifying who some rather obscure and less obscure persons were – all of which could have been relegated to a Biographical Appendix, so that the reader could more easily discover what nuggets and insights the author wanted to mention that he did not judge were appropriate to include in his narrative. This clutter is reflected in a less-than-useful Index, which is dominated by the same hundreds of personal names, while ignoring many of the more vital entities (such as wartime Operations) in which I had interest. I was also puzzled that no analysis of Austin's precipitous demise was given. He had been a dedicated pipe-smoker – like thousands of his generation – but why did he succumb so early to squamous cell carcinoma? (My father, who was born a month before Austin, also smoked a pipe intensively until the 1970s, but outlived him by forty-five years.) And how come that Austin, a resolute atheist, was given a grand memorial service in the University Church of St. Mary the Virgin? I should also have liked to learn more about the contribution of Austin's loyal and admirable widow, Jean, who, as I picked up from a New York Times review of Nikhil Krishnan's A Terribly Serious Adventure, carried on teaching philosophy at Oxford after her husband's death. So – a necessary read, in many ways, but it is hard to see at which audience this dense tome is targeted.
And then there are the reissues of two famous works: D. J. Taylor's biography of George Orwell, and Michael Ignatieff's revised life of Isaiah Berlin. I have an extensive supply of Orwell-related literature in one of my bookcases, including Taylor's Life, the biographies by Crick, Meyer, Bowker, Shelden, and dozens of volumes that inspect various aspects of Orwell's life and works, as well as an almost full set of the magnificent Complete Works of George Orwell, edited by Peter Davison. In view of my breakthrough research in 2004 suggesting that Orwell had Asperger's Syndrome – a diagnosis later confirmed by Professor Michael Fitzgerald in his 2005 book The Genesis of Artistic Creativity (see https://coldspur.com/reviews/orwells-clock/ ), I was keen to learn how Taylor had treated this information in Orwell: The New Life. I had written to Taylor many years ago, and pointed him to my article posted on coldspur, so he must have been aware of the theory.
The book duly arrived. I checked out the index: no mention of Fitzgerald or Percy or Asperger's. Yet the flyleaf declares that the book uses 'a wide range of previously unknown sources', and that it is 'poignant, far-reaching, and critically astute'. I read all of its 540 dense pages, and enjoyed it, but did not learn much more than I gained from the 2003 version, and it sometimes is simply too encyclopaedic. Indeed, the resident literary lampoonist and satirist at Private Eye captured the spirit of it in a short parody published a few weeks ago. While his contributions are always presented anonymously, I know that the author's identity is – D. J. Taylor.
So what happened? I was apparently not the only reader to wonder about Taylor's disdain. Alexander Larman, in a review of the biography in the July issue of The Spectator World, wrote:
"Taylor shies away from any suggestion that Orwell was on the autism spectrum, but judging by many of the actions depicted in this necessarily lengthy but never self-indulgent book, he suffered from at least a moderate form of Asperger syndrome, which might explain his often uncomprehendingly forthright attitude towards his fellow writers." Yet that is only partly true. Taylor does not 'shy away': he never even engages with the hypothesis, which represents a very bizarre way of treating fresh research. Ignoring coldspur is perhaps pardonable, but pretending that the relevant publication by the very prominent Professor Fitzgerald had no merit is surely inexcusable. Since a review of the book also appeared in Literary Review, I sent a letter to the Editor of that excellent magazine describing my puzzlement, and drawing attention to both my article and the book by Professor Fitzgerald. He declined to print my letter.
Soon afterwards, I read in the Wall Street Journal of August 12-13 a very positive review of a book titled Wifedom, a biography of Orwell's first wife Eileen O'Shaughnessy, by Anna Funder. The reviewer, Donna Rifkind, wrote:
Ms. Funder clearly believes that Eilleen's role in Orwell's life has been undervalued. She balks at the ways Orwell views "women – as wives – in terms of what they do for him, or 'demand' of him." His exalted status, she implies, has obscured how tyrannical this hater of tyrannies could be, how insensitive he was towards the women who best understood him.
It has been shown that Orwell treated several women in his life in a severely abusive manner. Taylor definitely soft-pedalled this aspect of his hero. It sounds as if a new version of his work is called for . . .
And then there was Michael Ignatieff and Isaiah Berlin. I learned from a Facebook post by Henry Hardy (Berlin's long-time amanuensis and editor) that a revised edition of Isaiah Berlin: A Life, first published in 1998, was to appear this summer. I awaited its appearance eagerly. After all, in my study of Berlin, most prominently in my 2015 History Today article The Undercover Egghead (see https://coldspur.com/the-undercover-egghead/), in my comprehensive coverage in Misdefending the Realm (2017), and in my elegiac contribution in Isaiah in Love (see https://coldspur.com/isaiah-in-love/), I had done much to disclose Berlin's involvement with intelligence, frequently of a highly dubious nature, which Berlin, in his conversations with Ignatieff, and in his own writings, had very strenuously denied. Surely Henry Hardy would have alerted Ignatieff to my contributions: Hardy had attended the lecture at Buckingham University where I first unveiled The Undercover Egghead, he was familiar with Misdefending the Realm, and had complimented me (he is not one to dispense praise easily) on Isaiah in Love.
I had enjoyed the first edition of the Life, but thought it intellectually lazy. I do not know how one can write a serious biography when one is mainly dependent upon the reminiscences of the subject himself. Ignatieff brought a cultured and refined perspective to the incidents in Berlin's life, but it was far too hagiographic, focused too much on Berlin's frequently garbled thinking without analyzing it critically, and lacked objectivity and discipline in covering the essence of Berlin's 'Jewishness' (whatever that means), and his adherence to 'Judaism' and Zionism. Thus I had great expectations that the new edition would address many of the faults of the first, and take into consideration the bulk of what has been written about Berlin in the past twenty-five years.
The arrival of the book was a colossal disappointment. It is described as a 'fully revised definitive edition', 'a magisterial biography'. No new blurbs are listed, however: Doris Lessing's tribute is highlighted, but she died in 2013. That was not a good sign. In his Preface, Ignatieff writes that 'a steady stream of articles, books and commentary have explored Berlin's ideas. In this new edition, I have tried to incorporate as much of this new material as possible'. He claims that he has also 'tried to clarify Berlin's relations with important figures', but his interest is superficial. He maintains the individual chapters that carved up the first edition. His Endnotes reveal only about three books that have been published since 1998, and two of those consist of reminiscences of Berlin, one of which is by Henry Hardy himself. 'Definitive' it is not. Even Hardy agrees that a proper authoritative and objective life of Berlin remains to be written.
Thus we read no fresh analysis of Berlin's activities in the intelligence world. The story that Guy Burgess was on a mission to Russia, for MI5 (an error, since any overseas engagement would have been undertaken by MI6), and that he wanted Berlin to be appointed as a Press Officer at the British Embassy in Moscow, is carelessly repeated, as is Berlin's denial that he 'had ever been sent on a secret mission anywhere by anyone', in response to Goronwy Rees's assertions in his People article in 1956. None of the many incidents that I describe in my articles, from the visit to sub-Carpathian Ruthenia in the summer of 1933 (see https://coldspur.com/reviews/homage-to-ruthenia/) , through the strange negotiations with Chaim Weizman at the end of 1940, to the furtive meetings in Washington with Anatoly Gorsky, the previous handler of the Cambridge Five in London, starting in December 1944, is covered. I also note (something that I overlooked in the first edition) that Berlin 'gave every assistance to Peter Wright . . . .who called in search of any other accomplices Burgess might have had inside academe or the Establishment'. What possibly might Berlin have known if he was never involved with Intelligence?
Henry Hardy (who worked closely with the author on the notes and sources, and the editing of the book) agrees with me that Ignatieff is guilty of misleading his audience, and wrote to me declaring that 'he shouldn't have pretended to have done more than he did, and he should have made the case for leaving the book essentially unaltered', adding that he didn't think Ignatieff could be bothered to perform any more research. It is all rather sad, and the Pushkin Press should be embarrassed over this sorry effort to present the thing as a 'fully revised definitive edition'. I have not seen any reviews yet, but I shall watch out to detect whether anybody has the same reaction as I did. (The Summer Special issue of Prospect carried an encapsulation of Berlin's ideas by Ignatieff, suggesting that his Concepts of Liberty could act as guidance for the political challenges of today, but I found it too abstract and unconnected – as useless as the ideas of his adversary, John Rawls, Daniel Chandler's biography of whom was reviewed a few pages on.)
The Love-Lives of the Philosophers
As I read Ignatieff's book, I made notes on items that I thought were incorrect, or examples of sloppy or imprecise writing. I sent these to Henry Hardy, and some lively exchanges followed. One particular item that caught my eye was a sentence in the first paragraph of Chapter 15, where Ignatieff describes a scene at a beach outside Portofino in 1956. He lists some characters visible in Aline Berlin's home movie, including 'Stuart Hampshire and his son Julian Ayer'. Ayer? What did that mean? Had a few words been omitted? I know that Hampshire and Ayer (A. J. or 'Freddie', the logical positivist) were closely associated, but why would Hampshire's son be called Julian Ayer? (Hampshire is of intelligence interest to me, since he worked with Hugh Trevor-Roper in the Radio Analysis Bureau of the Radio Security Service in World War II, and, despite a slightly questionable reputation, was invited by the government to conduct an audit of Britain's intelligence services, and specifically GCHQ, in 1965.) I also checked out the first edition: there the text runs simply 'Stuart Hampshire and his son Julian'. So I asked Hardy about it: was this a mistake? His first response was to inform me that Julian was indeed Hampshire's son, but was known as Ayer. From straightforward research on Wikipedia, I established that Hampshire had married Ayer's first wife, Renée Lees, and I assumed that Julian was thus his stepson.
Yet further investigations pointed to something more sinister. Hardy then told me that Julian was not Hampshire's stepson: he was Hampshire's biological son, 'conceived before his parents were married'. This, however, turned out to be something of an understatement, and I sent my consequent discoveries to Hardy: "A long time before his 'parents' were married! All very strange. Julian was apparently born in 1939, but Ayer did not divorce Renée Lees until 1945, and Hampshire did not marry her until 1961. Thus Julian's status at Portofino in 1956 was indeed ambiguous. On-line information on him describes him as Ayer's 'adopted son'". Moreover, when I returned to Hampshire's Wikipedia entry that morning, references to Julian (that I had picked up a couple of days ago) had disappeared, even though the last date of change was given as July 23. It seems that Hampshire's daughter, Belinda, was also a product of his liaison with Renée Lees.
I detect some awkwardness over these events. Sadly, Julian was drowned in the tsunami disaster of 2004: maybe Ignatieff judged that it was time to open up about these relationships. By simply adding 'Ayer' to 'Julian', however, he provoked far more questions than he closed. What were his motivations?
And then, the very same day on which I was pursuing this inquiry, I read a column in the Spectator of July 22 by Charles Moore where he explained that the father of the Archbishop of Canterbury, Justin Welby, was Churchill's private secretary Sir Anthony Montague Browne. His mother, Lady Williams of Elvel, admitted that she had gone to bed with Browne, 'fuelled by a large amount of alcohol on both sides', probably the night before she eloped with Gavin Welby. DNA tests gave a 97.78 probability that Montague-Browne was Welby's father. What is it about the sexual mores of the Great and the Good, and what do they think they are they up to, lecturing to us about Morality? I knew that Freddie Ayer was a relentless satyr, but it seems that his habits were adopted by many of his friends and contemporaries. One of the fresh revelations in Ignatieff's book is that Isaiah Berlin, after his marriage to Aline, not only carried on his affair with the sometime Soviet agent Jenifer Hart (which I had learned from Nicola Lacey's biography of her husband H. L. A. Hart), but also conducted one with the Oxford sociologist (and later head of Newnham College, Cambridge) Jean Floud. Floud, née Macdonald, had married Peter Floud, and joined the Communist Party with him in 1938. Peter Floud's brother Bernard was probably a member of the Oxford Group of spies, and committed suicide as the net closed in in 1967. Maybe it was over details concerning that circle that Berlin was able to clarify matters for Peter Wright.
Coldspur: Method, Archive & Topography
Method
It occurs to me that it might be useful to describe the method(ology) behind my conclusions posted on coldspur, and how I treat comments submitted by readers. My researches are undertaken with the suspicion that most accounts of events in the world of espionage and counter-espionage are probably inaccurate, and a detailed study frequently reveals anomalies in time, geography and psychology, as well as conflicts between different records. (The full methodology I applied when performing my doctoral thesis can be inspected at https://coldspur.com/reviews/the-chapter-on-methodology/. )
My writing is designed to counter the baleful influences of at least four groups: 1) Those who write memoirs, or confide 'remembrances' to their biographers, when their primary objective is to beautify their reputation; 2) The bureaucrats, such as the 'Foreign Office advisors' who guide (for example) SOE researchers away from embarrassing material, and government employees (current or retired) who display indulgence to their 'colleagues' for sentimental reasons; 3) The amateur historians who distort the facts out of carelessness or a desire to glorify their subjects, or look for publicity by promoting melodramatic theories; and 4) The authorized historians who breach their professional objectivity by agreeing with their sponsors to constrain their areas of research.
What I am doing is, I suppose, 'investigative reporting', but of recent history, not current events. The experts in this subject encourage the maintenance of a large number of human sources – giving as an example the Sunday Times team researching Philby. Yet it requires an open mind and a good nose to distinguish between probable facts and possible disinformation when dealing with such sources: Bruce Page with Sackur, Seale and McConville with Vivian, Chapman Pincher and Anthony Glees with White and Reilly. Thus 'sources' can be a two-edged sword. I have enjoyed the contributions of very few 'live' inputs during my research. Moreover, it probably explains another dimension of the 70-year rule for releasing archival material. That limitation is frequently explained as a mechanism to protect the living, or their relatives. Yet it is just as useful for the authorities in preventing the insiders from being interrogated by inquisitive researchers, since they are no longer with us.
As I process the information available, and publish my conclusions, I am of course merely developing hypotheses. I never pretend that they are the last word on the subject, and I encourage challenges to them. Contrary to the belief of some, an accurate account of what really happened is not going to magically appear from an exhaustive presentation of all the 'facts'. Some records may never be released, disinformation has been inserted into the archives, and memoirs are notoriously unreliable. I note the following statement from M. W. Rowe's biography of J. L. Austin, where the author comments on the challenge of dealing with less than conclusive evidence: " . . . truth is ultimately more likely to emerge from a bold, crisp and refutable claim than a range of hesitated options; and a full discussion of every option would weigh down the story and take up too much space."
Well, I suppose my texts could be crisper, but I do believe that recording a detailed exposition of my material is essential for the benefit of posterity, since it will not appear anywhere else. I develop my hypotheses from a meticulous examination of information from multiple sources, and try to interpret/transform a series of discrete events into the structure of a plausible theory (such as my recent hypothesis that in 1939/40 Kim and Litzy Philby presented themselves to MI5 and MI6 as turncoats from Communism). Now a thesis such as this, which helps to explain a number of riddles and paradoxes, could be refuted, but that will not happen simply because one (or more) of the links in the chain can be broken. For example, some readers have challenged my suggestion that the informant to MI5 in 1953 was Graham Greene, and they may be right. Yet, even if that person is never correctly identified, it cannot detract from the fact that someone, almost certainly from MI6, told MI5 that the psychiatrist Eric Strauss knew more than he should have about Philby's exploits in Turkey.
Thus most of the comments that I gratefully receive on coldspur help me to refine the arguments, and correct errors. So far, no one has submitted any evidence that causes me to retract a theory, though I am ready to do so, if appropriate. To any sceptics, I sometimes reply: "Show me an alternative explanation that fits the facts!", but that may be unreasonable, as they have neither the time nor the interest to go that far, and they might disagree with me over what the 'facts' are. I should love to participate in a forum that explored these rival ideas, such as a debate at Lancaster House (probably not chaired by Mark Seaman), but that is unlikely to happen. Coldspur under WordPress is not the most efficient chat-room for exploring rival ideas, but it is what I have, and the ability to follow up controversies in my own space and time enables me to avoid the noise and muddle of other media.
Archive
As I have previously written, I have been trying to find a home for my substantial library, and a custodian for coldspur, for the time when I am no longer around. I believe I have found a suitable educational institution who is eager to house my collection and provide a portal to my research and other archival material, but I have nothing in writing yet, so I am reluctant to say any more until a firm agreement has been reached. What has emerged from the discourse so far is the requirement to have my collection of books catalogued, and I have thus been involved in working with a website called LibraryThing (https://www.librarything.com/home) to enter the details of the relevant volumes in my library.
So far I have entered about fifteen-hundred items on intelligence, history and general biography, with a few thousand still to be processed. (It may be that the institution will not want all my library, which contains a large selection of fiction, books on language, poetry and humour, including a particularly rich assortment of volumes of comic and nonsensical verse.) It has been a fascinating exercise: LibraryThing offers a choice of search engines to locate a title, normally by ISBN, such as amazon, the Library of Congress, and the British Library. I have found that amazon is by far the fastest and the most reliable. Very oddly, even when a book is identified with a 'Library of Congress' number, for instance, that search capability usually fails to come up with a candidate. For older books, of course, when no ISBN number existed, I have to enter search arguments by title and author, and make annotations. Occasionally no entry at all can be found, and I have to input all the details (publisher, date, etc.) myself. I place a little sticky label on each book entered, in order to control where I am.
One revelation for me has been how chaotic the ISBN system is. It looks as if it maintains an erratic 'significance' in its coding (and we data modellers know how error-prone such coding systems can be, as, for example, that used for postcodes in the UK), but I don't know what it is, and there appears to be little consistency between what should be related entries, and books republished in a different format frequently own vastly different identifiers. I also found that some newish books remarkably have no ISBNs printed within them, and that some have them, but they are wrong, or have been used by other books before them. One of my on-line correspondents has made a detailed study of ISBNs and formats, and I may return to this issue at some stage.
A fascinating benefit from this exercise is that the user of LibraryThing can determine how many other users own the same volumes. This feature is a little unreliable, however, as it does not distinguish between different editions, but works only by title. Thus my owning a very rare nineteenth-century edition of a memoir, for example, may appear to be echoed in a count of other registers when the latter probably reflect much later re-prints. Occasionally, I find that I am the sole owner of a particular volume, which is a pleasing discovery.
I hope to report more on this project soon.
Topography
As the volume of research on coldspur has increased, I find it more and more difficult to track down references, statements and conclusions that I have made. (My bulletins have been going on for over eight years now, comprising what I estimate to be about one-and-a half million words – not all of serious import, of course.) An Index would be highly desirable, but I do not think the creation of one is going to happen. The internal search capability within WordPress is somewhat useful, but it identifies only the entry that contains the reference(s), and is thus very laborious. I do preserve the original Word version of each posting, so I can go back to an individual report and execute a search that highlights each reference. But I have found that an inadequate mechanism.
I know that there are procedures out there that can convert text, even extracted from coldspur itself, and convert into a PDF, maybe with Index entries, and that would be a great help, but would not go far enough. For an Index to be useful, it needs qualification of the entry (how many of you have been frustrated to look up, say, 'Philby', in the Index of a book, and find a list of twenty-eight page numbers without any indication of what aspect of 'Philby' each covers?). I know, from my experience in compiling the Index for Misdefending the Realm how desirable such a capability is, but also how tedious an exercise it is.
The other aspect of this dilemma is the fact that I now detect multiple linkages between my research projects that were not obvious beforehand, such as the manipulation of the FBI/CIA by Dick White in 1951 and the investigations into Philby that summer, or the involvement of Claude Dansey in the attempts to 'turn' Ursula Kuczynski, Henri Déricourt, and, possibly, Litzi Philby. Thus I plan to provide some sort of guide to the coldspur archive, organized along chronological lines, that will highlight important threads and related events, and provide direct pointers to the urls, as well as the position of the relevant text within the report itself, so that the required information may be found more easily. That is my hope, anyway. I plan to start this project soon, and I hope to deliver the results before the end of the year.
(This month's Commonplace entries viewable here.)